Ogletree Deakins, a firm dedicated to employment law, is the exclusive contributor for France of the Chambers Global Practice Guides "Employment 2022".
This guide is published once a year, for each country around the world, highlighting the analysis and expertise of top-ranked lawyers in labour and employment law on key issues for businesses.
Our firm is proud to have contributed to the 2022 edition, to share our analysis of the French labour law landscape and to highlight the latest legal trends and developments in our field of expertise.
This 29-page chapter serves as a guide to practitioners and employers on the challenges of French employment law.
To download the document in pdf format, click on the cover :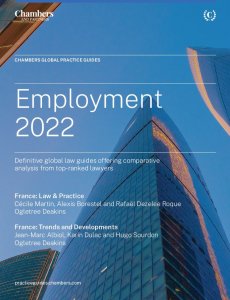 > click here to access on line
Authors : Cécile Martin, Managing Partner, Alexis Borestel, Associate and Rafael Dezelee Roque, Associate – Ogletree Deakins
2nd part : "Trends and Developments"
> click here to access on line
Authors: Jean-Marc Albiol, Founding Partner, Karin Dulac, Partner and Hugo Sourdon, Associate – Ogletree Deakins
To download the digital edition of Employment 2022 for each country from Chambers Global Practice Guides website, click here.
The full version of the Chambers guide worldwide is available by clicking here.